Progetti Pure is a Certified Limited Edition
, exclusively sold only in 2017. It is available in the three most representative models with a beech structure, for the first time left voluntarily in view to highlight the indisputable wood crafting skills that Giorgetti has cultivated in more than a century of history. Solid wood, often the hidden soul of Giorgetti objects takes centre stage; the veining of the pure hardwood stand out and the natural imperfections of the raw material become the formal perfection of the finished product. A unique outfitting that dialogues with primitive forces of another natural material: leather which becomes a pure element secondary to the structure.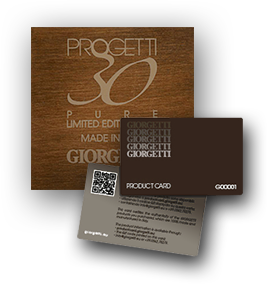 LIMITED EDITION PLATE
Progetti Pure is handcrafted and has
an engraved plate on it, that guarantees the exclusivity of the item
, proposed in limited edition, numbered only for 2017
PRODUCT CARD
Giorgetti digital product card certifies the authenticity of the purchased 100% made and manufactured in Italy furniture.
Progetti Pure will be accompanied also by a printed certification attesting the originality of the item.