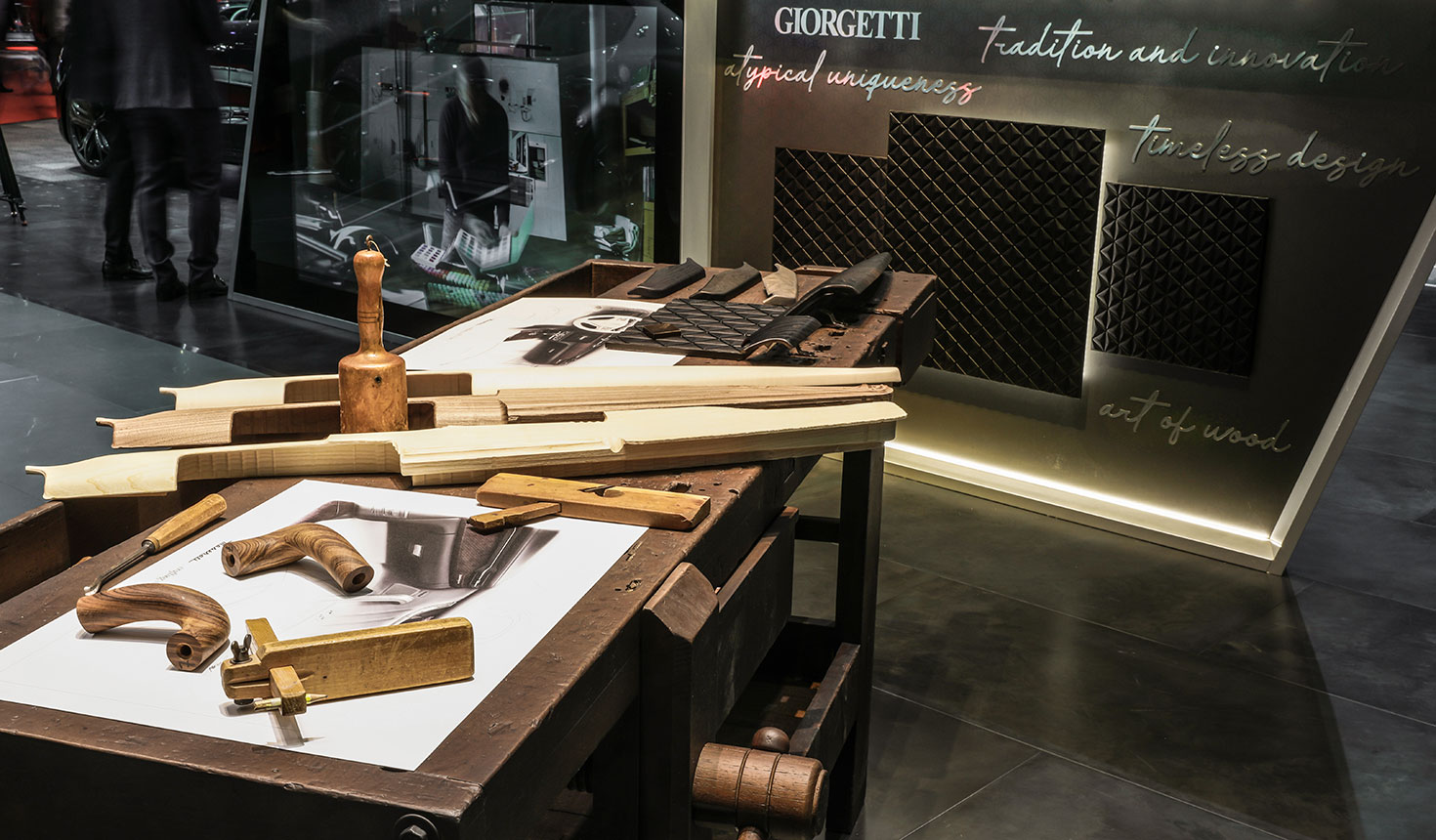 On the occasion of the Geneva Motor Show 2019 (7-17 March), Giorgetti reveals the secrets of the woodworking in a special outfitting in the Maserati stand that exalts the craftsmanship of the brand and furnishes two elegant lounges.
Totally renewed in the design, materials and contents, the exhibition space of the so-called Trident House is an itinerary dominated by the Italian character, the high craftsmanship and innovation: the same values that, together with the aesthetic research, the experimentation and the respect of the tradition, have always driven Giorgetti for over 120 years.
A Giorgetti area dedicated to its Craftsmanship is indeed part of the Maserati stand, organised as a fact-finding itinerary of the made in Italy and divided into three thematic areas with likewise guest companies. The key point, the woodworking, of which the company boasts a centenary tradition, and a working table with several tools, a decorative panel with a 3D drawing and car parts, such as the dashboard strips of the Maserati Quattroporte, rethought and worked by the Giorgetti master craftsmen right with the solid wood on various essences. The result is an exercise in style on the solid wood, telling about how the design can challenge the manufacturing tradition. The history of a Made in Italy of two historic companies, characterised by ancient wisdom, manual skill and digital innovation, which can incorporate high value-added processes and contents.
Furthermore, to greet visitors in the Maserati stand there are two comfortable lounges right furnished with Giorgetti pieces: functional and timeless sofas, armchairs and coffee tables able to combine the cabinetmaking tradition and technological innovation.