PINKHAM POINT 01 THE LIVING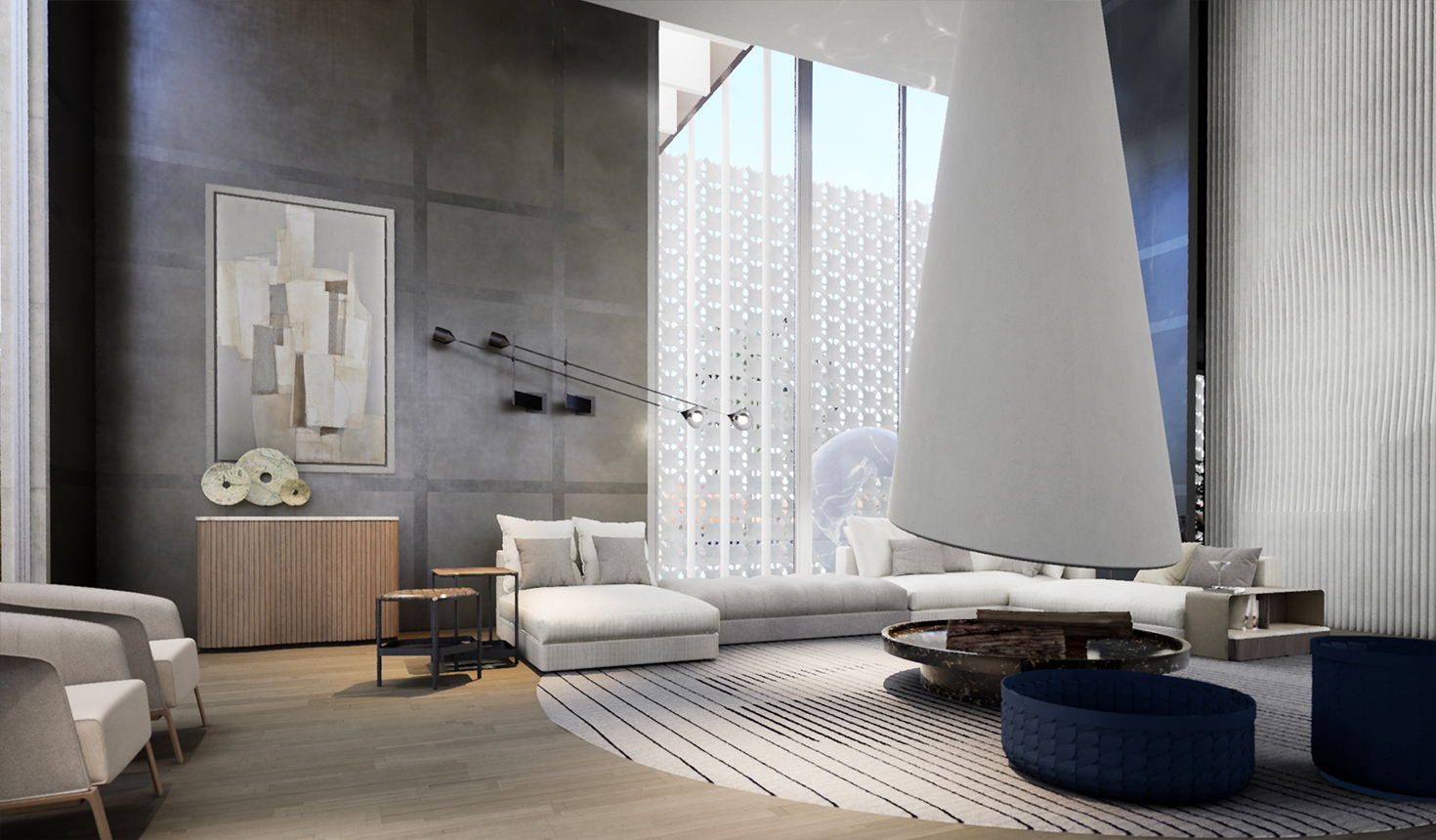 First episode of the film to present the 2020 collection
Giorgetti, leading brand of Made in Italy design, launches the Pinkham Point project, an anthology created thanks to the potential of digital technology that reveals the sophisticated ambiances of a virtual modernist home in which the new collection is combined with Giorgetti's great classics. The cinematographic techniques, made of large tracking shots and close-up shots, together with a musical crescendo, give back a poetic narration that, in the first episode, shows the living room.
A glazed space overlooking nature for a large double living area: on one side, the Skyline modular sofa system designed by Carlo Colombo meets Umberto Asnago's armchairs Aura and, on the other, the revisited Dhow sofa by Andrei Munteanu. In the living room, there are the new Janet armchairs by Umberto Asnago too, which reveal the contrast between the solidity of the external silhouette and the softness of the seat, the base enriched with solid lathed canaletto walnut pieces. The camera continues by presenting the low version of the Domus modular system created by Carlo Colombo with Centro Ricerche Giorgetti, an extremely versatile project with infinite combinations. The environment is enriched by iconic products such as the Progetti armchairs and the Galet poufs, by small tables that tell the many variations of this accessory through the geometric shapes of Fit, the retro lines of Athene and the soft minimalism of Oti, from the new Atmosphere accessories such as the Clop rocking horse and the Shighera carpet and from the classics such as the 90° Minuto table football and the Bond partition system.
In the living room there is the new Kiri bar cabinet designed by Setsu & Shinobu Ito too. Appreciated for their ability to obtain fluid and elegant shapes, the duo of Japanese designers has created a timeless object that brings the charm of ancient Japanese customs into contemporary life. In the Eastern tradition, a Kiri tree was planted every time a girl was born; on the occasion of her wedding, the tree was transformed into a sideboard, symbol of the bond with her family. Its external part is composed of vertical strips in canaletto walnut artfully shaped one by one, for a fluid and sinuous effect that reveals the ability to choose and treat the raw material, the technical preparation and the artistic sensitivity of the craftsmen of the company.
The project is signed and directed by Giancarlo Bosio, the company's Art Director, and was created by the Giorgetti designers in collaboration with Superresolution, a studio specialised in creating virtual environments and high-quality graphic pictures.
Pinkham Point 01 The Living
Produced by Superresolution
Click here to watch on Giorgetti Channel
Stay tuned on
Giorgetti Channel
to discover more about the Villa!