EYE ON ART | Find the Intruder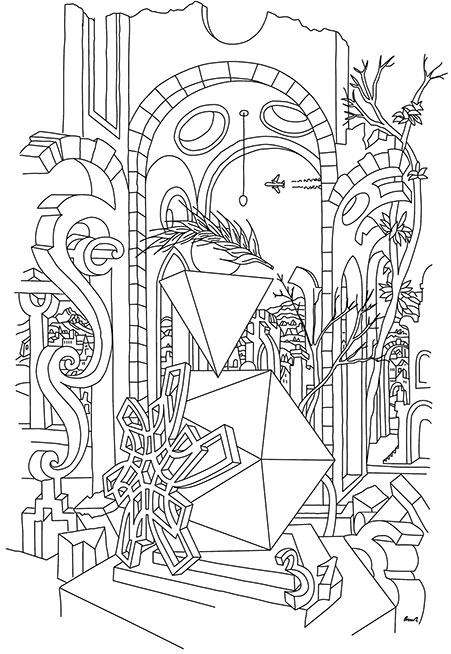 With an illustration by Cambi, the Giorgetti Group wishes a joyous holiday season and shares its journey towards new destinations
"I took a moment
to admire a panorama of rare beauty"

This is how the artist Roberto Cambi, with a tireless soul and a weakness for playful creations, leaves room for imagination. His works, like the Atmosphere objects created for Giorgetti, often turn out to be part of larger projects, of extended views and horizons.

"Find the Intruder" is a unique illustration that weaves together reflections and emotional images into a spatio-temporal, imaginary window on a beautiful and unexpected place.
Amidst the beauty represented by the landscape and what remains of a wonderful palace, the Giorgetti pictogram, standing out in the foreground, takes up the baton and projects itself into the new adventure of Via della Spiga in Milan that will mark the year 2023, with the aim of translating the beauty and noble history of yesterday into a contemporary and modern language.

Between memory and future visions, always looking back to the ancient art of woodworking kept in a priceless heritage and never forgetting its roots, Giorgetti Group shares its journey towards new destinations. It is the magic of memories, that makes us reflect on the past and gives us ideas for new projects.

Season's Greetings!