PROJECTS & STORIES | #Journeys in the Giorgetti Archive Shaping design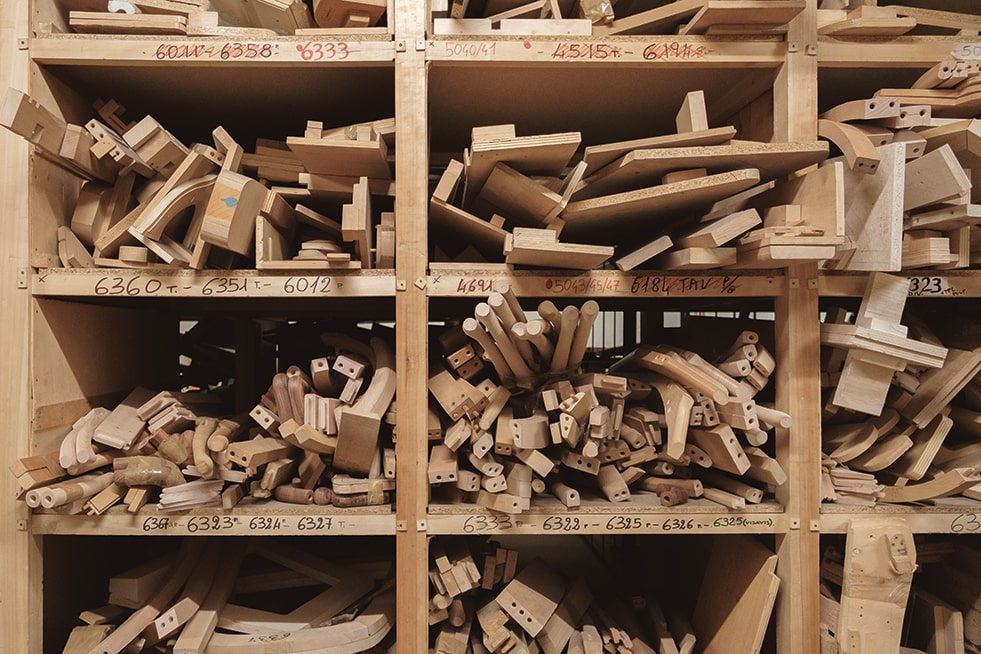 #Journeys in the Giorgetti Archive Shaping design
Without a template, no icon would ever see the light of day. Curves, sharp corners, parabolas, ellipses, and junctions rely upon the forms that emerge from the formlessness of original matter, ready to become arm rests, feet, back rests, joints, acrobatics and flights of the world's oldest and most valuable material: solid wood. They're highly intelligent objects that foreshadow the forms to come.

by Cristiana Colli


There's something special about the life of a template. Though created for a specific project, its life is infinite, open to continuous checks, and changes small and large. In the process, the transformation from the original resource to the first form of the project alters the inert into an intelligent material, through millimetric, progressive metamorphoses, evolutions and restyling. Similar to the way a living body senses its environment, changes in temperature, time and seasons.
Their story is that of a 'before'—the interval between the initial design and its engineering, when the breaking down of the product into all its components makes it possible to sharpen curves, proportions, dimensions, margins, and heights—and an after, when intuition becomes a form manifested in space. It's an item in support of realisation, proof of the consistency between the real object and the mental image from which it originated. Then, later, come the first sample, changes to the template, and the start of production. As such, each form is coinhabited by circular time, temporary but from permanent manufacturing memory.
While the historic archive is made of sketches, technical drawings, notes, correspondence, conversations, maquettes, taxonomy, findings, data, measurements, and inspirations accumulated in over 100 years of history, the template archive is dynamic, renewed every day, made of concrete, diligent incremental innovation. A place composed of racks, iron wires, and shelves where over 1,200 jigs (woodworking templates), hundreds of samples, thousands of forms and sub-forms are organised. Each piece is a story made of proportions, nuances, analyses, evaluations, initials, cataloguing numbers, and dates; every object has undergone dialogue with machine tools to become a part of furniture, chairs, tables and accessories.
That vault doesn't contain secret information, but something even more precious: the memory of hands, the marks of dull pencils rested behind an ear, knowledge and interpretation, the legacy that endures and is handed down. It's called 'made in Italy'.