Milan
GIORGETTI SPIGA - THE PLACE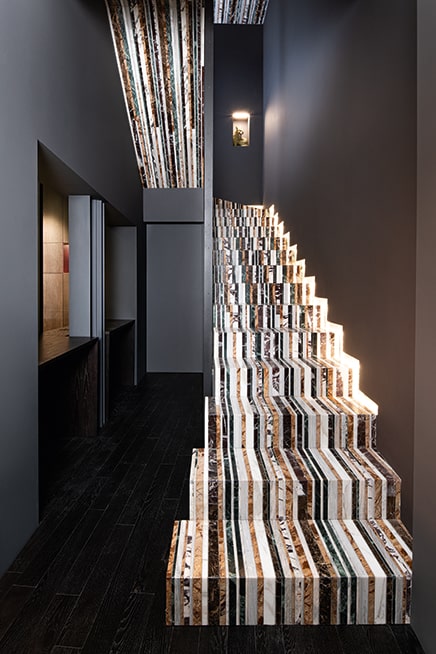 THE NEW GIORGETTI HOME IN MILAN
In the most famous fine shopping district in the world, surrounded by high fashion boutiques, historical buildings, museums and art galleries, Giorgetti Spiga - 'The Place' is the quintessence of the brand's vision of beauty.

It's a location that conveys the company values at first glance, a Wunderkammer where every floor is a place to discover Giorgetti's iconic products and new releases, with recherché finishes that define the spaces and art, sculpture and precious objects to complete each area, making it feel like a sophisticated private home.

Giorgetti palace is in a seventeenth-century building, though its classic façade is from the nineteenth century. It's designed for professionals, clients and connoisseurs, and is conceived of as a meeting point between two supply concepts that form the base of the brand's global distribution: that of a shop and a workshop.

The space covers four floors, in addition to the attic which will host the company offices, and the basement with its technical areas, to welcome visitors, opening up to the city with its shop windows on Via Spiga. At the same time, it offers a special, intimate view into the world of Giorgetti, encouraging the discovery of an elegant domestic setting, where attention to detail, uniqueness and quality are key.

Giorgetti Spiga is directly overseen by the Giorgetti team, which will also tap into the support and extensive retail experience of its partner, Interni. This unique way of managing things will focus on guaranteeing a shopping experience that places the customer at the centre through services that highlight the sartorial nature, refinement, singularity and obsessive passion for detail that have made the Giorgetti brand unique for over a century.
See you to discover the new collection presented during
2023 Milan Design Week @ Giorgetti Spiga - The Place
Map
Visit us
Via della Spiga, 31 20121 Milano
Tel. +39 02 99372000
Opening hours: Mon-Sat 10am - 7pm