Audemars Piguet Project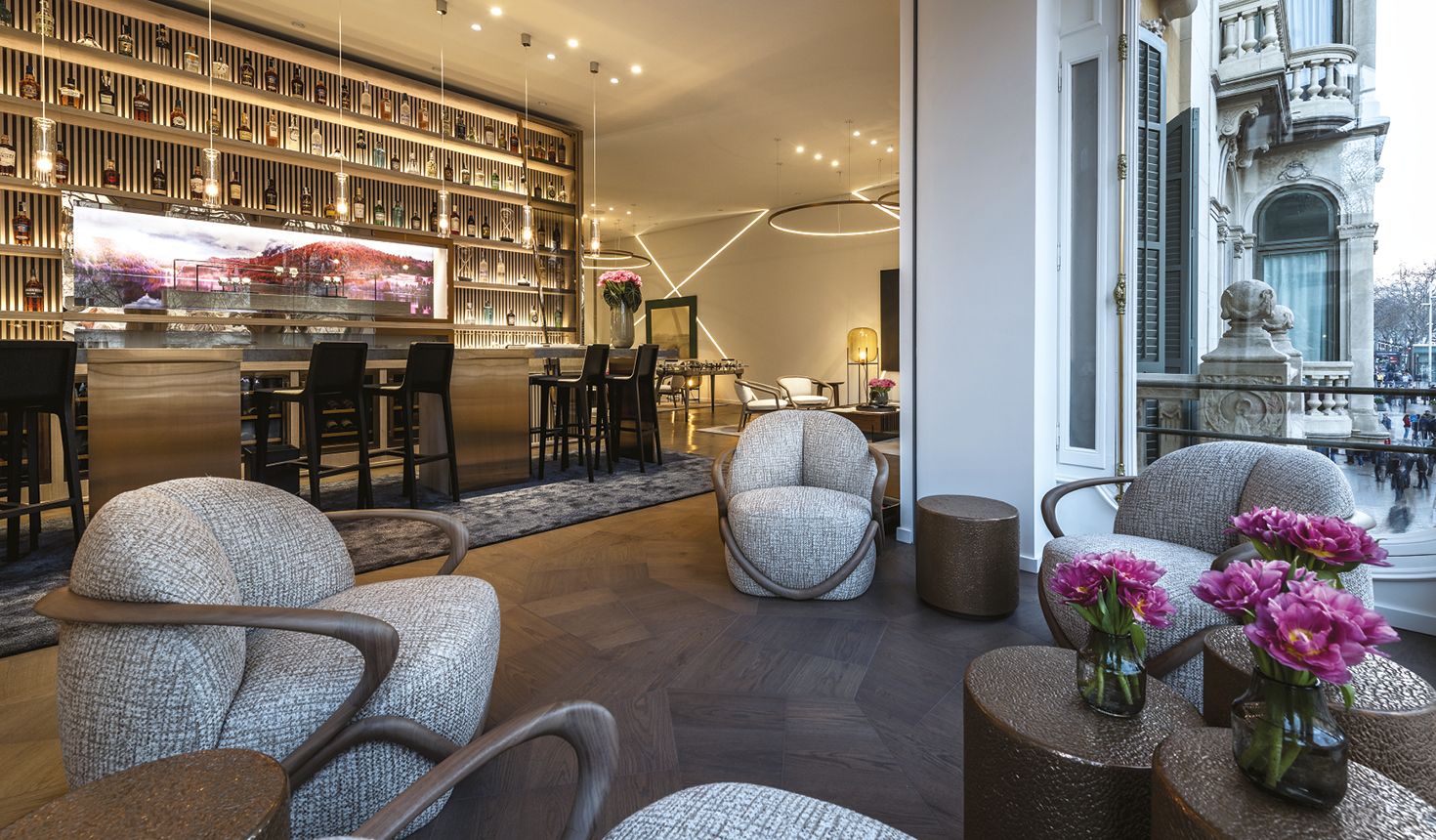 Barcelona, 2020
Giorgetti starts a new collaboration the iconic Swiss watchmaking brand Audemars Piguet with the interior design project of the AP House in Barcelona. Located on the first floor of number 37 of the elegant Passeig de Gràcia, one of the most important "avingudes" of Barcelona, not far from the world-famous Casa Batlló by Antoni Gaudì, the boutique is over a thousand square meters big.

Giorgetti's experience is revealed in every room of the AP House. Once past the imposing entrance, visitors are welcomed into the lounge defined by the geometric shapes of the TAMINO sofas and the sinuous lines of the PAMINA armchairs, in the soft tones of canaletto walnut and white. The iconic 90° MINUTO table football and the richness of the materials of the FIT small tables stand out in the space. The setting is completed by the BLEND small tables and the CHISEL rugs from the Giorgetti Atmosphere collection.

It goes on with the lounge bar: the iconic HUG armchairs, symbol of high cabinet-making, are placed side by side with the CORALLO small tables. The spaces follow one another up to the area dedicated to the watches choice, where two counters are combined with the refined TICHE chairs and AURA small armchairs, which reveal Giorgetti's expertise in woodworking.

To the left of the entrance, a second area of the AP House opens up with a living, complete with TV wall, where the ADAM sofa is the protagonist together with the historic MOBIUS armchairs and the precious GALET small tables; the setting is completed by the geometric games of the KALEIDO rug and embellished by an impressive wines collection from the AP House. In a continuity of spaces, the living room flows into the second lounge bar featuring the BIGWIG table, in the impressive version with Zebrino marble inserts with continuous veins, combined with the AURA armchairs.

The journey through the AP House ends with a second lounge defined by the enveloping TILT armchairs, together with the BLEND marble small table and the elegant MOONSHADOW carpet.