EYE ON ART | Rik's avant-garde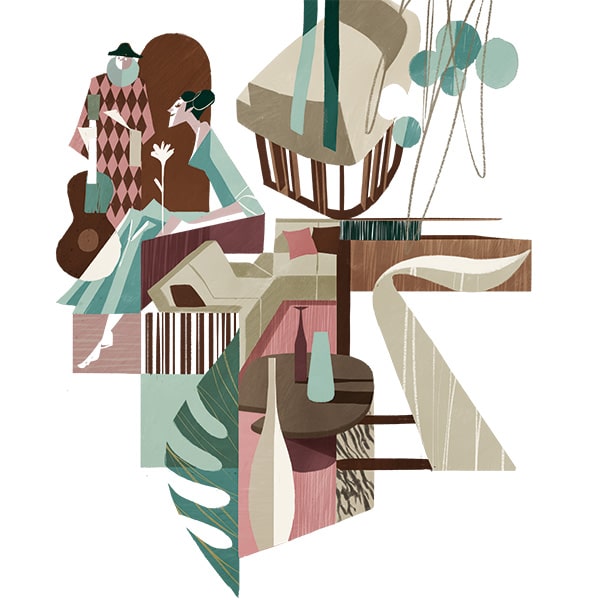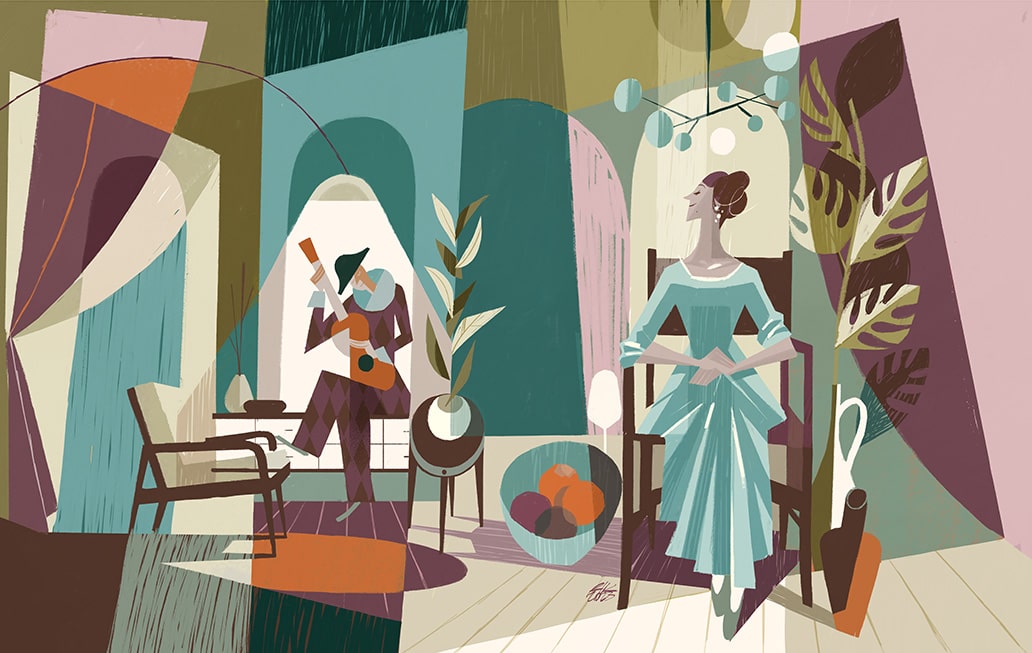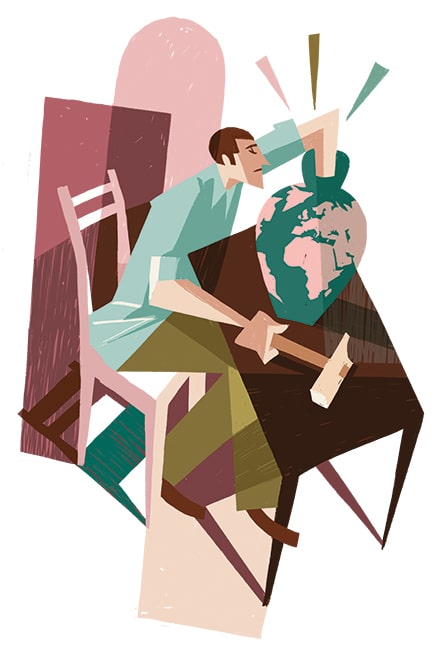 Rik's avant-garde
He'd like to be a cook, musician, farmer, winemaker, restaurateur, pastry chef, gardener... But instead, he's an illustrator. Piedmontese by birth though he dreams of living in Japan, Riccardo Guasco, aka Rik, is an unrealised bohemian, a nomad inside but stationary by nature or laziness. He collects ideas and inspiration from the streets, but he fine tunes them and maybe, just maybe, he paints them only when he's in a safe harbour. His voyages, the real ones, take place via illustration.


by Roberta Busnelli



When he can, Riccardo Guasco gets up relatively early in the morning and goes for a walk. It's the hour he dedicates to movement, to listening to a podcast or music, to mulling over ideas and tasks. Then, he takes Gloria and Gualtiero, his children, to school, he heads over to his studio and works all morning on a sketch for an illustration, and he spends all afternoon colouring and putting the finishing touches on another one. If he can, at night, when everyone else is sleeping, he draws a little bit more. Personal things, on his notepad, little canvases, sketches. 'It may seem paradoxical, but when I have a bit of free time, I draw. It's my hobby and my work at the same time', Rik smiled. When he isn't drawing, he's busy with his children: reading, playing, riding bicycles or…drawing! It sounds like a rather peaceful life, one that moves to the pace of a single routine (work and family) from which, however, like a karstic river that flows underground and forcefully emerges on the surface, the flame of a profound, instinctive passion erupts: his love of art. 'I've always been heavily influenced by the art of the 20th century and avant-garde art movements. They're an endless source of inspiration', he recounted.
From Cubism to Futurism, from Suprematism to Fauvism, I've always been passionate about the concept of going beyond reality, which is very present in those groups. That's where my research began. I think the result is a rather nice Frankenstein, made of soft Cubist forms, geometric figures that are also extremely romantic, cheery abstractionism and bright colours next to pastel tones—an oxymoron maybe, or maybe just opposites that attract.' We talk about pillars of the calibre of Mondrian, Haring, Calder, Duchamp, Fontana, Malevich, Picasso, and so on. And today, where does Rik's heart beat? What horizon is he looking to? 'After the enormous digital wave that amplified creative possibilities, but which closed us and everything else into small screens, my preferences always go more to analogue creativity and street art, which gives you the luxury of seeing art in an urban environment and leaves you the time to absorb it day after day, street after street.' Beyond the art that inspires him, past or present, his professional eye lingers on compositional balance, or intentional unbalance. 'A work of art should be a perfect structure of rhythm and stasis, of positive and negative space, of combinations of colours and chiaroscuro.' And then, above all, there's form. 'When I get to work on my personal projects, I'd stop at pure pencil lines, as if the work is practically finished once the right form has been found.' The human presence is always there, as the star or a simple extra depending on the project, examined with a unique sensibility for hands and faces. 'The two main elements that I need to communicate are gestures and a visage', he explained. 'I'm interested in the subject and the message, techniques and materials are just a vehicle for them. What I want is to generate other ideas, make pieces that inspire other pieces, other thoughts or other possible roads that I didn't take or imagine. A message becomes artistic when it contains the spark that keeps it alive and lets it pass from person to person.' And the Hamletic and eternal question about creativity and inspiration? What is it and where does it come from? 'It's born of my surroundings, everyday life. Inspiration needs to be cultivated, watered regularly, and grown, looking at the world with the eyes, heart, and brain. And a bit of irony.'
Rik soon realised that one's 'tone of voice', the Holy Grail for artists, is found through a path of divination that—after a lot of research (the best part of the job), drawing for the pure pleasure of drawing, and falling head over heels for so many artists, styles, and pieces—brings one to the reward: going home holding your own path in your hands, 'which is nothing more than the sum of everything we've seen and felt so passionately, the sum of countless hours spent drawing. Style comes when you stop looking for it and start looking at yourself and what you've learned. You also have to be prepared for inevitable changes because, hopefully, we also change over time, as does our way of seeing things.'
We'll now leave Rik in his studio, to his drawings and brushes, ink, watercolours and acrylics. We'll leave him among etchings, aquatints, lithographs and silkscreens, surrounded by improvised jazz rhythms and vintage album covers by Neil Fujita or Jim Flora. We'll leave him to experiment and express the deepest part of him. In return, we'll offer respect, kindness and sensitivity to his noble craft as a troubadour. We'll leave him on his own, as he prefers, silent and in dialogue with what he's truly passionate about.